Over the next few articles I will give you a little background in how I got to where I am today.
I have never wanted to be "Trendy" in the video business. Even at college I pushed the primitive equipment to the max. At a TV station I modified stuff to work better for me and I used a consumer camera with a 3/4 inch video deck with out telling the engineers. It passed broadcast. I put a 400mm Nikkor on my JVC KY-2000 so I could record President Reagan getting out of his helicopter at his ranch in Santa Barbara 6 months before the national networks did it. After working for the TV station, I moved to Los Angeles to freelance. In the Los Angeles area we never got permits to shoot. We like to be stealth and work without a large crew. I did Pete Ellis Dodge spot with me and the director. (One of them made it into a tv inthe movie "Into The Night." Occasionally we rent sound stages for bigger shoots but still a small crew. I was one of the first to do a "making of" documentary on a feature film as a one man band with a JVC KY1900 and a 3/4 inch portable video deck. I have always looked at way to "do it better."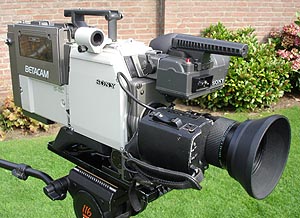 After I moved to the Pacific Northwest, I was one of the first in the area to purchase a Sony Betacam camera because it was one of the first "camcorders" because I did not have to rely on a separate video recording deck. I had adopted the camcorder before the local TV stations had used them. Once I rented a Schwen Gyro-Zoom for my Betacam so I could shoot from a helicopter because it was one of the first lenses with optical image stabilization (O.I.S.). When Sony put O.I.S. in their TR-100 Hi8, I also used Hi8 professionally because the cameras were so small. OIS made a small camera hand holdable.
Then the Sony DCR-VX1000 MiniDV camcorder came out and I was in "Nirvana." Immediately I bought one because it offered what I had always wanted. A very high quality camera in a small lightweight package. It offered 3 chip component video in an optical image stabilized camera that weighed 3 vs 30 pounds. It cost $4,000 vs $30,000. Like "Duh." This made a lot of sense. The camera was immediately back ordered for 9 months so my camera had a lot of use because it was rented. I kept that camera for 10 years.
One of the other areas where I was an early adopter was non-linear editing. While owning my beloved VX1000, I built a non-linear video editing system for $15,000 (most systems then cost $60,000 and up) in 1995 long before most people had abandoned tape. I used a Macintosh 9500 with a Targa 2000 board and Adobe Premiere 6.0 and a $4,700 8 gig disk-array. I remember at the Media 100 booth at NAB where they said that "Premiere never stays in sync." I never had a problem and where are they now? The next revolution was FireWire. It allowed lossless dubbing and transfer. My footage was transferred for edit for the first time without loss.